Computational Facility
CREPS: Computational Research in Earth and Planetary Sciences
Over the period 2010-2011, Northwestern's Department of Earth and Planetary Sciences (EPS) acquired and built a new computational facility, named CREPS for Computational Research in Earth and Planetary Sciences. The primary goal of this acquisition was to provide a robust EPS computational infrastructure that would be easy to access and navigate by graduate students. 

CREPS and its maintenance are funded by the National Science Foundation (NSF), Northwestern University, the Department of Earth and Planetary Sciences, and Prof van der Lee's funding.
CREPS includes:
A research and development compute cluster
The cluster is a small rack of dedicated multi-node, multi-core equipment which provides fast parallel computing for data processing and analysis as well as modeling.
A backup server
Storage on this server has been phased into the compute cluster above as backup services have moved to the "cloud".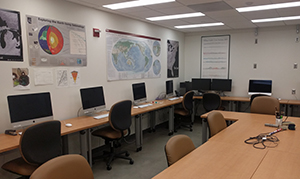 A research and training computing lab with 10 iMac workstations
These workstations are identically equipped with geophysical software to promote teaching, sharing, cooperation, advising, and coaching.
The iMacs were most recently replaced in 2017.
Access to Northwestern Unviersity's research compute cluster Quest
CREPS is primarily but not exclusively used by students and faculty in geophysics and is accessible to all EPS members. 
Back to top