Professor Yarrow Axford awarded NSF CAREER Grant to Support Paleoclimate Research in Southern Greenland
October 28, 2015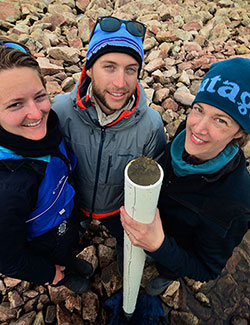 Dr. Yarrow Axford, an assistant professor in the Department of Earth and Planetary Sciences, was recently awarded a Faculty Early Career Development (CAREER) award by the National Science Foundation's Office of Polar Programs. The CAREER award recognizes junior faculty members who demonstrate outstanding abilities in both academic research and educational outreach.
The five-year CAREER grant will provide over $590,000 plus field logistics support for Dr. Axford to advance and apply innovative paleolimnological methods for reconstructing the recent climate history of southern Greenland. Axford and her students will aim to develop quantitative temperature reconstructions for the Holocene based on subfossil insect assemblages and reconstructions of precipitation isotopes from lake sediment cores. Graduate student Everett Lasher is focusing his dissertation research on testing and refining the method for reconstructing precipitation isotopes.  A third approach – reconstructions of alpine glacier fluctuations using sediments from lakes that receive meltwater and sediments from nearby glaciers – will provide independent evidence for climate change through the Holocene.
"The award of an NSF-CAREER grant in support of this research is a resounding and definitive endorsement of the quality and care she has put into her research," remarked Brad Sageman, Chair of the Earth and Planetary Sciences Department. "I believe she was awarded this grant in part because, in addition to the high quality of her published work, she is one of the most gifted teachers and mentors in our department."
Axford and her students will travel to southern Greenland for the first of three project field seasons in summer 2016.  In addition to research funding, the grant will also provide support for K-12 science teacher development workshops and training  for Northwestern graduate students in science communication and public engagement.
Dr.Axford's research has been attracting attention in recent months, as evidenced by recent profiles by Northwestern's Weinberg College of Arts and Sciences and The Graduate School. Additionally, Axford's graduate student Jamie McFarlin was recently granted a Graduate Research Fellowship from the NSF for her research in Greenland, which is in collaboration with assistant professor Maggie Osburn.
Previous winners of the CAREER award in the Department of Earth and Planetary Sciences include Matthew Hurtgen in 2010, Steven Jacobsen in 2008, and Suzan van der Lee in 2007.
Image: (L to R) Grad students Jamie McFarlin and Everett Lasher with Dr. Yarrow Axford. Photo: Alex Taylor
Back to top