Student Impressions of the Undergraduate Program
Hannah Dion-Kirschner (Class of 2018)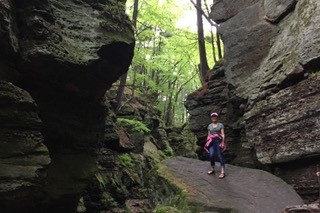 "I feel so lucky to have stumbled on EPS! With interests across science disciplines and a passion for the environment, I declared an Environmental Science major in the spring of my freshman year, but when I started research with Maggie Osburn and Yarrow Axford a year later, EPS quickly became my true home at Northwestern. Professors, grad students, the office staff, and undergrad peers alike have made me feel incredibly welcome since I first began working and taking classes in the department. Everyone I meet is just as excited to talk about the Earth as I am!—but equally excited to swap stories about solar eclipse road trips or beloved pets. I have loved the wide variety of really stimulating courses offered, and many courses are small enough for students to develop personal relationships with the professors and each other. Truly, I have not taken a class in any other department where professors made themselves as open and accessible. As much as I've loved the coursework, research in the department has been my single most rewarding experience at Northwestern. Professors are excited to work with undergrads and I've been lucky to delve deep into my research area and to receive life-changing mentorship. I couldn't be happier to call the F wing and my lab home. My only regret is that I didn't have time to add the EPS major instead of the minor I will be earning this spring!"
Ruthie NORVAL (Class of 2014)
"Adding an EPS major to my tough engineering curriculum was one of the best decisions I made as an undergraduate student. My Earth classes were fascinating and so different from my other course material, I ended up taking more EPS classes than I needed to, just for fun. The professors were all so excited about their field and their research that it was easy to be excited as well. On top of all the extra fun facts I know about the Earth, minerals, seismology, our solar system, geology, volcanoes, and of course climate change, I feel like this love of learning more about the planet we call home will carry into other aspects of my life. In short - great material, great professors, and a great learning experience."
Nora RICHTER (Class of 2014)
"I first started working for the Earth and Planetary Sciences Department as a work-study student during my freshman year. At that point I did not know much about stable isotopes or geology. However, after several weeks in the lab and getting to know the department I realized that I wanted to be part of the EPS community. Thanks to the EPS department I had several amazing field research experiences in Svalbard and Greenland, and the opportunity to travel to the Yucatan Peninsula. Throughout my four years at Northwestern I knew that I could always count on the EPS department for support and a great time."
Laura BECKERMAN (class of 2013)
"When I started at Northwestern University, I knew that I wanted the background to pursue graduate school in astrobiology, but was unsure which major(s) to pursue as an undergraduate to reach that goal. I decided to take Our Dynamic Planet (EARTH 107) to test out the Earth and Planetary Sciences department, and I fell in love with geology. Eager to learn more, I met with Prof. Donna Jurdy after class. After kayaking down the Chicago River with the EPS department in September 2010, I was convinced that this was where I belonged, and I officially declared a second major. (read more)
Allegra MAYER (Class of 2013)
"The best part about the Earth department is the community. The faculty and staff are all so friendly and welcoming of students, and they were very approachable if I ever had any questions or whenever I sought advice, science-related or otherwise. I can always count on the faculty and grad students to ask about my research or about how I am doing as a person, and genuinely care. From the awesome field trips to the Yucatan Peninsula in Mexico or to Baraboo, Wisconsin, to department backyard barbeques and Friday afternoon seminars, the Earth department is definitely the most fun to hang out in, especially while learning about how our planet functions!"
Michael MOUNIER (Class of 2010)
"The reason I became an Earth Sciences major is because the department is so interdisciplinary in scope. You can use chemistry, physics, biology, and often a combination of all three to explore interesting and highly relevant aspects of this world and others. EPS is essentially a way to apply any natural science (and even engineering in some cases) to one huge problem domain. The long time horizons and incredibly high number of variables involved in most Earth systems means that there are plenty of opportunities for intellectual challenge and contributing to truly new research. Since it is a small department, you get to know your professors and the graduate students quite well by the end of your college career. This personal connection went a long way towards keeping my enthusiasm in the subjects alive."
Colleen MOORE (Class of 2010)
"As a Physics major, I spent most of my time on the other side of campus so I didn't really discover the Earth Department until my senior year and I wish I had explored it sooner! The department offers too many exciting classes and opportunities to all be squeezed into one year (although I certainly tried).The department is an amazing community full of friendly and mentoring professors, one of which created contacts for me that lead to an independent study project and an opportunity to work as a research assistant with a graduate student. Both projects were amazing and helped me further explore two very different aspects of geophysics to help me decide what I might want to pursue in the future. I consider my experience with the Earth Department to be invaluable and my Northwestern experience simply wouldn't have been the same without it!"
Stefan JENSEN (Class of 2009)
"NU's Geology program allowed me to participate in a huge variety of research and field work. I was able to learn through firsthand experience about structural geology with banded-iron formations and quartzite synclines, Volcanology at Yellowstone, hydrology in Mexican caves, seismology at Lake Tahoe, and paleobotany in the badlands of Wyoming. I had an amazing experience at Northwestern: I would not trade it for anything. Yet I was not alone in this. Everyone in the department is able to find a niche, whatever your interests may be, or wherever they may take you. The faculty, staff, graduate students, and undergrads all share a unique interest and excitement about their subject. What is even more rare: they also genuinely care about each other's work, as well as your own. You'd be hard pressed to find a more dynamic and close-knit group of researchers and advisors in any other department, at any other school."
Dan ZABLOTNEY (class of 2005)
"The Geology Department at Northwestern is a small, close-knit community. It is obvious that the professors love what they're doing, and their passion for their work results in enthusiastic and exciting teaching. Additionally, because the department is small, I have really gotten to know the professors, and can feel their genuine concern for my academic success."
Justin SWEET (class of 2004)
"I think what I enjoyed most about the undergraduate geology program was the closeness and superb teaching ability of the faculty and teaching assistants. During my time with the department, I enjoyed classes with several highly enthusiastic professors who really went out of their way to make the subject matter even more accessible. Additionally, the graduate students who served as teaching assistants for my courses were spectacular. Aside from helping me out with understanding the material, several of my TAs became good friends and helpful advisors regarding my own plans for graduate school. The small size of the department, and the fact that it is separated from the rest of the sciences housed up at Tech, allowed for a family-like closeness to develop amongst the professors, grad students, and undergrads, which is something I shall miss after graduating."
Shawn STEVENS (class of 2003)
"I found the geology department to be both rigorous and intimate. Oftentimes I would have classes of 5 to 15 graduate and undergraduate students. With such a small department and classes, it was very easy to approach the professors and grad students. This intimacy made the classes more enjoyable—several departmental courses ranked among my favorites at Northwestern--and provided opportunities to pursue independent research. My first research project on T Waves in the southeast Pacific, for instance, grew out of a course taught by Professor Okal. I loved the course and it convinced me to major in the Geological Sciences. As it turned out, though, I enjoyed the chance to perform original research even more than taking courses."
Petra PANCOSKOVA (class of 2002)
"As a triple major in Geology, the Integrated Science Program, and Environmental Sciences I had many interactions with faculty from various departments. The faculty at the Geology department was the most enthusiastic about helping me become involved in research projects and challenging me intellectually. I've especially enjoyed the diversity of the work I've been involved in. In my four years, I have worked on three different projects in completely different areas of geoscience and this has given me the opportunity to really hone my interests and become a better scientist."
Brett WILCOX (class of 2002)
"The best thing about the geology department at Northwestern is the opportunity to do original research. I was able to pick a subject that interested me and choose my own course of action. My advisor helped me turn what started out as a summer project into an honors thesis, which was eventually submitted for publication. By the time I got to grad school I had already acquired many of the research skills that I now use every day."
Back to top