Gilbert Klapper
Adjunct Professor (Emeritus, University of Iowa)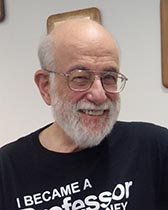 Research
Biostratigraphy, taxonomy, and biogeography of Devonian conodonts, general and quantitative biostratigraphy.
Teaching
EARTH 203: Earth System History
Selected Publications
Klapper, G., 2017, The occurrence of Polygnathus tuberculatus in lag deposits near the Middle-Upper Devonian boundary and its stratigraphic range in the conodont zonation: Stratigraphy, v. 14, no. 1-4, p. 217-222.
Klapper, G., and Kirchgasser, W. T. 2016. Frasnian Late Devonian conodont biostratigraphy in New York State: Graphic Correlation and Taxonomy. Journal of Paleontology, v 90, p. 525-554.
Klapper, G., and Vodrážková, S. 2013. Ontogenetic and intraspecific variation in the late Emsian – Eifelian (Devonian) conodonts Polygnathus serotinus and P. bultyncki in the Prague Basin (Czech Republic) and Nevada (western U.S.). Acta Geologica Polonica, v. 63(2), p. 153-174.
Klapper, G., Crônier, C., and Vodrážková, S. 2012. Conodont evidence for a latest Emsian to early Eifelian (Devonian) age for the phacopid trilobite Plagiolaria kitabi from Uzbekistan. Memoirs of the Association of Australasian Palaeontologists, v. 44, 25-26.
Vodrážková, S., Klapper, G., and Murphy, M. A., 2011, Early Middle Devonian conodont faunas (Eifelian, costatus-kockelianus zones) from the Roberts Mountains and adjacent areas in central Nevada: Bulletin of Geosciences, v. 86(4), p. 737-764.
Klapper, G., 2009, Upper Devonian conodonts in the Canning Basin, Appendix 1, p. 405-413, in Playford, P. E., Hocking, R. M., and Cockbain, A. E., Devonian Reef Complexes of the Canning Basin, Western Australia: Geological Survey of Western Australia Bulletin 145, 444 p.
Elrick, M., Berkyova, S., Klapper, G., Sharp, Z., Joachimski, M. and Fryda, J., 2009, Stratigraphic and oxygen isotope evidence for My-scale glaciation driving eustasy in the Early-Middle Devonian greenhouse world: Paleogeography Palaeoclimatology Palaeoecology v. 276, issue 1-4, p. 170-181.
Back to top