Yarrow Axford
Associate Professor, Director of Graduate Admissions & Recruitment
Ph.D. University of Colorado, Dept. of Geological Sciences
M.S. Utah State University, Dept. of Geology
A.B. Mount Holyoke College, Dept. of Geology
Curriculum Vitae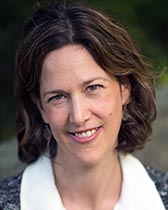 847-467-2268
Tech F394/F395
Research
I study climate and environmental change, primarily through the lens of paleolimnology (the study of lake sediments and past lake environments). My work is aimed at understanding climate change and glacier fluctuations in Arctic and alpine environments, most recently around the margins of the Greenland Ice Sheet. Much of my research has focused on the Holocene (the last 11,000 years of Earth's history), but I study timescales ranging from the Pliocene to the present.
Teaching
EARTH 102: Global Warming: The Scientific Evidence 
EARTH 341: Quaternary Climate Change: Ice Ages to the Age of Oil
EARTH 342 / ISEN 410: Energy and Climate Change
EARTH 450: Arctic Environments
EARTH 451: Paleoclimate Perspectives on Future Climate Change
EARTH 450/ISEN 495: Communicating Science Beyond Academia
Selected Publications
Larocca, L., Axford, Y., Lasher, G.E., Brooks, J., and Bjørk, A.A. 2020. Local glaciers record delayed peak Holocene warmth in South Greenland. Quaternary Science Reviews 241, 106421.
Puleo, P.J.K., Axford, Y., McFarlin, J.M., Curry, B.B., Barklage, M., and Osburn, M.R. 2020. Late glacial and Holocene paleoenvironments in the midcontinent United States, inferred from Geneva Lake leaf wax, ostracode valve, and bulk sediment chemistry. Quaternary Science Reviews 241, 106384.
Kaufman, D.S., McKay, N., Routson, C., Erb, M., Davis, B., Heiri, O., Jaccard, S., Tierney, J., Dätwyler, C., Axford, Y., Brussel, T., Cartapanis, O., Chase, B., Dawson, A., de Vernal, A., Engels, S., Jonkers, L., Marsicek, J., Moffa-Sánchez, P., Morrill, C., Orsi, A., Rehfeld, K., Saunders, K. Sommer, P., Thomas, E., Tonello, M., Tóth, M., Vachula, R., Andreev, A., and 63 others. 2020. A global database of Holocene paleo-temperature records. Scientific Data 7, 115.
Capron, E., Rovere, A., Austermann, J., Axford, Y., Barlow, N.L.M., Carlson, A.E., de Vernal, A., Dutton, A., Kopp, R.E., McManus, J.F., Menviel, L., Otto-Bliesner, B.L., Robinson, A., Shakun, J.D., Tzedakis, P., and Wolff, E.W. 2019. Challenges and research priorities to understand interactions between climate, ice sheets and global mean sea level during past interglacials.  Quaternary Science Reviews, DOI 10.1016/j.quascirev.2019.06.030.
Axford, Y., Lasher, G.E., Kelly, M.A., Osterberg, E.C., Landis, J., Schellinger, G., Pfeiffer, A., Thompson, E., and Francis, D.R. 2019. Holocene temperature history of northwest Greenland – with new ice cap constraints and chironomid assemblages from lake Deltasø. Quaternary Science Reviews 215, 160-172.
Lasher, G.E., and Axford, Y. 2019. Medieval warmth confirmed at the Norse Eastern Settlement in Greenland. Geology 47, 267-270.
McFarlin, J.M., Axford, Y., Osburn, M.R., Kelly, M.A., Osterberg, E.O., and Farnsworth, L.B. 2018. Pronounced summer warming in northwest Greenland during the Holocene and Last Interglacial. Proceedings of the National Academy of Sciences 115, 6357-6362.
Back to top