Rosemary Bush
Assistant Professor of Instruction and Weinberg College Adviser
Ph.D. Earth and Planetary Sciences, Northwestern University, 2014
M.S. Plant Biology and Conservation, Northwestern University, 2008
B.A. Environmental Biology, University of Colorado, 2006
Curriculum Vitae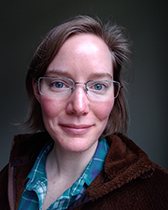 847-491-8916
1908 Sheridan Road
Research
My research focuses on understanding how plant communities and their environments have influenced one another through Earth's history. This involves the study of plant ecology, paleoclimate, and climate-ecosystem dynamics. I investigate how the stable isotope ratios of carbon, oxygen, and hydrogen found in plant tissue record a plant's environment in both modern and fossil ecosystems and how they correlate with other plant-based environmental proxies like leaf morphology. These relationships are then used to reconstruct ancient ecosystems in a variety of different places and time periods from the Cretaceous to the recent, which allows us to paint a more nuanced picture of the history of biota-climate dynamics.
Selected Publications
Bush, R.T., J. Wallace, E.D. Currano, B.F. Jacobs, F.A. McInerney, R.E. Dunn, and N.J. Tabor. 2017. Cell anatomy and leaf δ13C as proxies for shading and canopy structure in a Miocene forest from Ethiopia. Palaeogeography, Palaeoclimatology, Palaeoecology 485: 593-604.
Bush, R.T., M.A. Berke, and A.D. Jacobson. 2017. Plant water δD and δ18O of tundra species from West Greenland. Arctic, Antarctic, and Alpine Research 49(3): 341-358.
Bush, R.T. and F.A. McInerney. 2015. The effect of temperature and C4 abundance on n-alkane chain-length distributions across the central USA. Organic Geochemistry 79: 65-73.
Bush, R.T. and F.A. McInerney. 2013. Leaf wax n-alkane distributions in and across modern plants: Implications for paleoecology and chemotaxonomy. Geochimica et Cosmochimica Acta 117: 161-179.    
Back to top