Andrew Jacobson
Professor
Ph.D. Geological Sciences, University of Michigan, Ann Arbor
M.S. Earth Sciences, Dartmouth College
B.A. Earth Sciences and Chemistry, University of California, Santa Cruz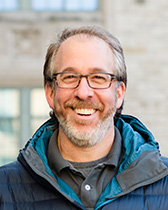 847-491-3132
Tech F396/F398
Research
My students and I specialize in low-temperature aqueous and radiogenic isotope geochemistry. We combine fieldwork, laboratory experiments, and modeling to quantify chemical, physical, and biological phenomena that cycle elements and their isotopes at the Earth's surface. Many activities use isotopes to probe the compositional evolution of the Earth, at timescales spanning the geological to modern-day. Other projects aim to elucidate the fundamental behavior of isotopes, including their distribution, transport, and possible fractionation within and between Earth's biogeochemical reservoirs. We also work to improve radiogenic isotope measurements by thermal ionization mass spectrometry. A prime goal is to isotopically track the flow, transformation, and distribution of carbon during natural and anthropogenic environmental change. Several investigations focus on mineral weathering and precipitation reactions that cycle carbon and other elements, link inorganic and organic aspects of the Earth system, and control the geochemistry of soils, rivers, aquifers, seawater, and the atmosphere. Related efforts seek to understand the causes and consequences of climate change. To this end, we work in locations throughout the globe, from pristine natural settings to urban centers.
Teaching
EARTH 201: Earth Systems Revealed (Introductory Geology)
EARTH 310: Aqueous Geochemistry 
EARTH 313: Radiogenic Isotope Geochemistry 
Selected Publications
Lehn G. O.,
Jacobson A. D.
, Douglas T. A., McClelland J. W., Barker A., and Khosh M. S. (2017)
Constraining seasonal active layer dynamics and chemical weathering reactions occurring in North Slope Alaskan watersheds with major ion and isotope (δ34SSO4, δ13CDIC, 87Sr/86Sr, δ44/40Ca, and δ44/42Ca) measurements
.
Geochimica et Cosmochimica Acta
217, 399-420.
Andrews M. G. and Jacobson A. D. (2017) The radiogenic and stable Sr isotope geochemistry of basalt weathering in Iceland: Role of hydrothermal calcite and implications for long-term climate regulation. Geochimica et Cosmochimica Acta 215, 247-262.
Mills J. V., Gomes M. L., Kristall B., Sageman B. B., Jacobson A. D., and Hurtgen M. T. (2017) Massive volcanism, evaporite deposition, and the chemical evolution of the Early Cretaceous ocean. Geology 45, 475-478.
Andrews M. G., Jacobson A. D., Lehn G. O., Horton T. W., and Craw D. (2016) Radiogenic and stable Sr isotope ratios (87Sr/86Sr, δ88/86Sr) as tracers of chemical weathering and biogeochemical cycling in the Milford Sound region of Fiordland, New Zealand. Geochimica et Cosmochimica Acta 173, 284-303.
Jacobson A. D., Andrews M. G., Lehn G. O., and Holmden C. (2015) Silicate versus carbonate weathering in Iceland: New insights from Ca isotopes. Earth and Planetary Science Letters 416, 132-142.
Du Vivier A. D. C., Jacobson A. D., Lehn G. O., Selby D., Hurtgen M. T., and Sageman B. B. (2015) Ca isotope stratigraphy across the Cenomanian-Turonian OAE 2: links between volcanism, seawater geochemistry, and the carbonate fractionation factor. Earth and Planetary Science Letters 416, 121-131.
Back to top